Cost and scarcity of IT resources are holding back finance transformation projects. As enterprises strive to streamline their finance and accounting processes, the importance of efficient and effective integration between SAP and financial close software solutions cannot be understated.
However, the cost and shortage of IT resources are in the way of financial close development projects. Pulling together and managing the required team of IT experts is a huge, time-consuming project finance managers are understandably reluctant to take on.

As Shivam Dosa, Aico's Head of Delivery explains, "The cost and scarcity of IT resources are holding back finance transformation projects. Our accelerated SAP integration solutions are our response to this challenge. It helps our customers integrate Aico via SAP middleware safely, quickly and with minimal IT effort." 
Reducing
the IT
workload by 85% on SAP integration
Traditionally, specialist IT teams were assembled to produce the required mappings that allow financial close software platforms like Aico and the customer's SAP instance/s to communicate.
Each mapping must be created manually at the beginning of the integration process. This is time-consuming and prone to error. Managing such projects in complex IT landscapes is hard work and delays are common.
Aico has created an industry-leading SAP integration implementation process that saves enterprises time and IT resources while ensuring company data security by using their SAP middleware. The initial phase of the integration project can now be done with an 85% reduction in IT workload.
Sampo Laakkonen, Aico's SAP Development Lead, credits this efficiency gain in part to the accuracy of Aico's integration processes.

"In our integration projects, we've noticed that our customers often allocate a substantial portion of their IT resources to integration error correction. To address this issue, we've proactively pre-built all the necessary mappings and iFlow work, leading to a remarkable 65% reduction in errors during integration testing."
The accelerated Aico to SAP middleware integration solution
The superior functionality of Aico's SAP integration solution lies in its flexibility. With the ever-growing popularity of SAP among businesses, Aico's adaptability to integrate with SAP is ever more crucial.
The new Aico accelerated integration solution applies to SAP's Process Integration (PI), Process Orchestration (PO) and Integration Suite middleware.
  For enterprises operating with a single SAP, the implementation of Aico integration is refreshingly fast and straightforward. Just import the files, update the ERP connection details in the communication channel, and voilà! The process is slightly more involved for entities utilising multiple SAPs, but Aico's solutions all come equipped with comprehensive instructions on how to best implement routing.
 Once you've incorporated our files into your PO systems, deployed the iFlows, and updated the ERP connection details, all that remains is providing the WSDL URLs to Aico. This empowers companies to keep their financial close transformation projects a finance, not an IT project.
Find out more about Aico's best-in-class SAP integration: Download the Datasheet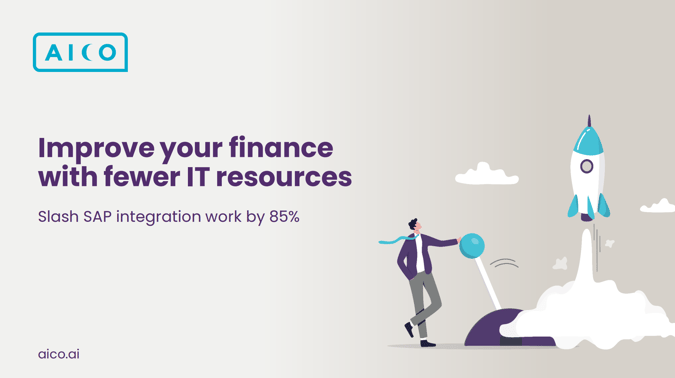 Fill in the from to download the datasheet
About Aico:
We help simplify financial close and record-to-report (R2R) accounting processes. The result is less manual work and faster period-end financial reporting with the assurance of compliance and data accuracy. Our software platform includes solutions for the key R2R processes – Account Reconciliation, Closing Task Management, Journal Entries, Intercompany Invoicing, Financial Requests and Manual Payments. Unique real-time integration to multiple ERP systems brings increased automation levels and reduces IT system complexity for our customers. With teams and a network of partners across Europe, we ensure our software implementation projects are on time and within budget.